Wood is an excellent material, and it's no wonder that butcher blocks are the most popular surface for kitchen countertops. The wood's ability to protect knives from being dulled by steel, its moisture resistance, and its attractive appearance make it a natural choice for a work area inside the home. Butcher block countertops aren't just for kitchens—they can also be installed in dining areas or as standalone tables in any room. They're also easy to make at home, with several easy DIY butcher block plans available here. The free DIY Butcher Block Plans below show you how to easily build your own butcher block countertop, even if you're not the most skilled craftsperson. Use them to get the materials and techniques to do it yourself, and keep your kitchen knives sharp!
Sometimes butcher block countertops are a little out of reach when you're not ready to pull the trigger on installing a full kitchen renovation. The good news is that there are many options for getting this look on a smaller scale, from butcher block islands to butcher block top kitchen cabinets and even butcher block countertops for bathroom vanities. In this section, we've gathered together seven options for DIY butcher block countertops - or tops for kitchen cabinets - that you can use to get this timeless look in any room of your house.
You'll never have to worry about your knives again – these 7 DIY butcher block plans are simple, inexpensive, and easy to follow.
Benefits of DIY Butcher Block Plans
DIY butcher block plans are great because they're inexpensive and easy to build. The supplies cost less than $100 and take only a few hours to complete the project. You can also use these plans if you already have a solid wood tabletop that needs refinishing or repairing. Here are some of the benefits that come from building your own DIY butcher block countertop:
It's cheaper than buying one pre-made from a store.
You get exactly what you want instead of settling for something close enough that doesn't meet your needs.
You get a terrific piece of furniture that looks more expensive than it costs.
You Can See: 7 DIY Brick Smoker Plans
Build Your Own Butcher Block Kitchen Island
Easy DIY Kitchen Island
Double Kitchen Island With Butcher Block Top
DIY Butcher Block Island Top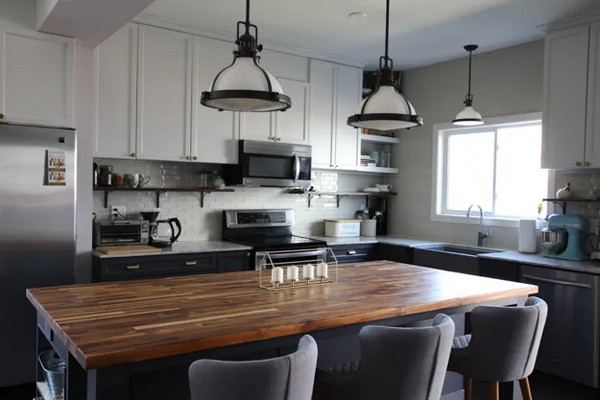 Butcher Block
How To Make Butcher Block Countertops:
If you're looking for an easy way to upgrade your kitchen, butcher block countertops are a great idea. They're made from wood, so they can be stained as dark or light as you want. This can be done in just a few hours using some simple tools. Whether you want a rustic look with a rich, warm finish or something more contemporary with a light finish that showcases the natural beauty of the wood, there are many benefits and applications for butcher block countertops.
DIY Butcher Block Table Plan: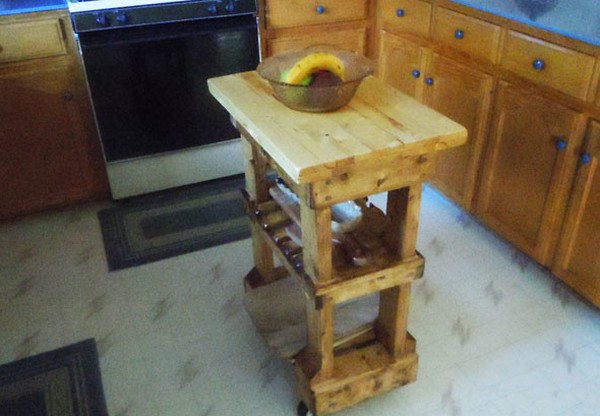 If you love working with wood or even like to have a project on hand to do when you're not working, this is the perfect table plan for you. You can easily start it and work on it anytime, and with just some basic tools and reclaimed wood, you'll have a beautiful butcher block table all your own in no time. The DIY Butcher Block Table Plan is an easy-to-follow project that takes you beyond the basics. Build a traditional, long-lasting butcher block table with this easy-to-follow plan.
Materials: Lumber, screws, nails, wood glue
Tools: Circular saw, hammer, screwdriver
Difficulty: Easy
How To Make Butcher Block Countertops:
Are you looking to add character and warmth to your kitchen countertops? A butcher block countertop is perfect, inexpensive, and easy to install. The How To Make Butcher Block Countertops guide shows you how to make this affordable project happen. The process includes creating a template, assembly and installation of the counter, filling cracks and leveling it with sandpaper, applying stain and other coats before sealing it, making trim pieces for the edges of the counter, and adding hardware (Such as drawer slides) and installing additional features like two cutting boards. Hopefully, this video tutorial will be useful for you.
Materials: Stain, wood conditioner, caulk
Tools: Orbital sander, circular saw
Difficulty: Easy
How To Build A Thick Butcher Block:
Build a beautiful butcher block table without the hassle! This has all the instructions you need to build your thick butcher block, including how to create a tabletop using dimensional lumber and plywood. Give yourself ample time to complete this project since it requires drying time between each step. Great tutorial on how to build your butcher block. Includes a list of materials and tools required, step-by-step instructions, and photos of the process.
Materials: Lumber, wood screws
Tools: Drill, table saw
Difficulty: Moderate
Grain Butcher Block Table Plan Free:
This is easy to build a grain butcher block table with breadboard ends. The large top has plenty of room for multiple people to gather and enjoy the family company. Assemble this project from simple wood scraps, or use your favorite hardwood for a higher-end look. You can finish it with a butcher block conditioner, so you don't have to worry about staining and sealing after assembly. This DIY project is designed for all woodworkers, irrespective of their experience.
Materials: Lumber, wood glue, stain
Tools: Clamps, sander
Difficulty: Advanced
Homemade Butcher Block Desk Plan:
If you like the look of a custom-made butcher block desk but don't want to pay retail prices for one, this is the plan for you. This DIY Homemade Butcher Block Desk Plan is a real conversation piece. It's also an easy project to build; you can get the lumber from your local home supply store or a hardware store. The finish is important when making this butcher block desk plan. You might want to use an oil-based finish for the top since it may be cut on frequently.
Materials: Lumber, wood glue, polyurethane
Tools: Clamps, table saw, sander, tape measure
Difficulty: Advanced
How To Build A DIY Butcher Block Counter:
If you want an easy-to-build butcher block countertop and don't want to spend a dime on materials, check out this great tutorial. With just lumber, a few tools, and some time and effort, you can build a one-of-a-kind butcher block counter that fits your style and needs. A butcher block countertop adds warmth and style to any kitchen. And when you build it yourself, there are no longer any limits to the design you can achieve. If you're interested in building one, this article will walk you through constructing a butcher block countertop and give you some basic tips on maintaining its long life.
Materials: Lumber, wood glue
Tools: Miter saw, clamps, jigsaw, drill
Difficulty: Advanced