Hey, white-color lovers scroll down here. Here you will get beautiful and easy ideas to decorate your home and other things with white color. These DIY all-white decor ideas are quite fun and easy to make. Here you will get ideas to decorate your bathroom, courtyard or bedroom, in white. The given DIY all white ideas are made by using very least expensive materials and very little hard work. All you have to do things in the right manner. These DIY all white ideas will be a perfect addition to your home decor and, will express your crafty skills to outsiders. You will find all the necessary information about these DIY ideas below but if you want something more about them click on the below-given links.
Decorate your home with these free and easy DIY all-white decor ideas. These ideas will make your home really attractive and beautiful you will surely love them.
You Can See Also:
DIY Abstract Black And White Art
DIY Black And White Washi Tape Candles
Black And White Crochet Stripe Blanket
DIY Black And White Geometric Ornaments
Black And White Wrought Iron Cushioned Bench
Black And White Farmhouse Inspired Bolster Cushion
Wine Crate Jewelry Display Boxes
DIY Cotton Centerpiece:
Colors play an important role in house decoration. The house can be decorated bright, cheerful and attractive by the proper use of colors. The home is a colorful place that is contained on so many colored furniture, flowers, and accessories like rugs, carpets, pictures, screens, etc. But if you are interested to make some decor pieces for your home by using white color and searching for ideas then you can make this DIY Cotton Centerpiece by using Rustic farmhouse cotton floral arrangement, (3) 20″ faux cotton stems, 8 1/2″ glass bottles with jute twine in a 10 1/2″ x 4″ distressed wood crate in soft blue with jute handles. This will surely give a unique look to your home in a bit of amount as well as it will be enough as a floral decoration piece or rustic look. Click below for more information about this project.
DIY Giant Paper Flowers: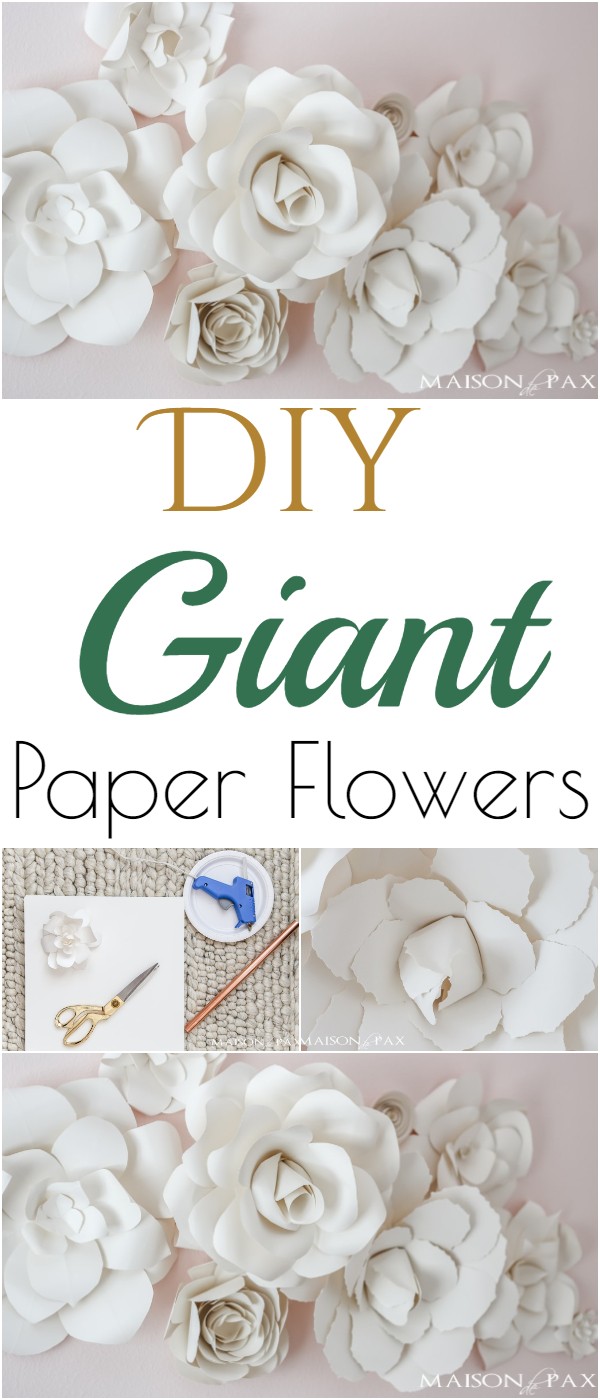 Drawing rooms are generally used by the guests. So a drawing-room should be looked cheerful, hospitable and restful. If you are looking for ideas to make your drawing room more adorable by using white color then try to make this DIY Giant Paper Flowers. The choice of color in this room expresses the personality of the living member in the home. When you hang these flowers and use them in your drawing room it will show off your sharpness and creativity about home decorating. Click below and collect whole information about the materials and tools for this elegant project.
Plant Wall In The Bathroom:
It might not be the largest room in your home, but the bathroom still deserves to be beautiful. This fresh idea of the plant wall in the bathroom will be fit for every style and budget that will make you excited to renovate and redecorate your room. It will give a fresh and clean look to your bathroom. You should use fresh, clear and stimulating colors such as light and bright for your bathroom so that the person who takes bath may clean and refreshing feeling then this flowerpot of white color will definitely prove good for your bathroom. The basic needs for this project are in the link below as well as you can read about the tools which are basic for this plan.
Faceted Vase:
Bedrooms are usually the place of rest and quiet. So the colors which produce a peaceful atmosphere should be used in your bedrooms such as you should use those colors which are light and give calm to eyes. Try this Faceted Vase by using white color and some cheaper things which are not too expensive. For example, green or white color may also be used in bedrooms then. You have to required, Cardstock, Free Template, Glue, Scissors, Scoring Tool and many others which are given in the link below.
DIY Corner Desk:
Want to update your study room by using white color and looking for some projects to enhance the beauty of your room then don't worry just click in the link below and start to make this DIY Corner Desk for your study room without spending too much time and money. You have to require some pellets of woods, which are easily available near to your home as well as in the storeroom of your home, and some other materials which are present in the link. It will be good and fantastic for your home.