With our collection of free crochet owl patterns, you will love to add this cute night bird to your home and wearables brilliantly. It's an amazing collection that will make you crazy for all these easy given patterns and embellish your bedrooms to nurseries and hats to appliques. Crochet owl amigurumi and patterns are a hot trend these days that is really making its circle wide to wider. You can use your hooks to crochet really impressive ad fabulous owl warm hats to crochet owl blankets. They are also unlimited to beautify your home and enhance its charm by adding crochet owl appliques patterns and crochet storage baskets in some lovely and pretty owl patterns. Whether you want to hit this hot trend or add a pop of colors to make your home décor more appealing and inviting, crochet owl patterns will be great fun and an interesting choice to cover your desires.
Crochet owl amigurumi patterns look so cute and adorable that makes them really demanding and popular among kids and babies to snuggle and cuddle with them. They also can be turned into fabulous squishy and softie gifts for little ones at any time of the year by adding festive colors and details to them. The possibilities and choices are endless that make them everyone's favorite crochet project and make interesting and exciting stuff toys and accessories! Here you will meet owl cuties with different gestures and features like big sleepy eyes to wide circular open eyes that will force you to hug them right that moment!
You Can Also See:
This squishy and cuddly Free Crochet Oversized Owl Pillow Pattern will be a great addition to your kid's room or to snuggle with it in the evenings. It is so easy and works fast with Bernat Baby Blanket in Baby Lilac color. The lovely features of the owl are really made nicely that will be really appreciated by all of the users. This crochet pillow will surely bring a smile to everyone's face permanently s soon as he will take a glance at it.
Kids really love to wear fun accessories if they are related to birds or their favorite pet animal amigurumi patterns. You can cheer-up your kids by gifting them this lovely and fabulous Free Crochet Snowy Owl Hat Pattern that will not only keep them cozier but keep them smiling all the time they will have been worn this hat. You can choose playful colors in Caron Simply Soft yarn and personalize this hat according to the likings of your kids or the other members of your family.
Give your kids a lovely and beautiful handmade gift that really becomes the reason to bring a smile on their face with this Crochet Wise Owl Tote Bag Pattern. But you can also crochet it for your older girl or gift it to your friends as a clever gift idea. It will be fun to crochet and really soft and snuggly to use. Customize a color combination that fits your personality and mood and personalize this project.
What would be a great and interesting way to wrap your tiny baby in your own handmade tiny Free Crochet Owl Lovey Pattern? It will be just amazing and fun to crochet something fabulous and soft to take care of your baby and let him/her play with owl amigurumi's head. He will hold his head and play with it for a long time without harming himself. It's easy and fast to work that will be perfect for both beginners and experts as well.
This soft little Free Crochet Owl Family Pattern will be a fantastic way to use up your scarp and create something outstanding from it. It's snugly and cuddly to hold and play with it or hug with it at bedtime. No matter, you are an expert or just come into the field of crochet amigurumi, it will be really amazing and exciting for both levels of crocheters.
Animal hats are very trendy these days and they are considered very fun patterns among kids of all ages. Crochet Woodland Owl Hat Pattern is a soft and modern baby hat that can be easily customized according to your needs. The stripes pattern also makes it a trendy and stylish accessory t keep your kids protected from cold and add a lovely and fabulous touch to your kid's wearables.
there are so many easy crochet patterns that can be crocheted very quickly but this Free Crochet Owl Ear Savers Pattern will take you a few minutes to give it a perfect finishing touch. Although this is a very easy and little project but its functionality is mind-blowing and it will protect your ears from cold as well as add a lovely effect to your outfit. You can also use it as a surgical mask to prevent viruses like Covid-9.
Create a family of owls by following this Free Crochet Owl Family Amigurumi Pattern that will also work great to increase the decor of your kid's room. You can display these little owls in their room and let them play and snuggle with these cute owls. You can also crochet these owl patterns to gift your friends or their kids as fun and fantastic handmade gift ideas.
Meet this cute and adorable Crochet Owl Amigurumi Pattern and make friends with him to make a loyal friend that will be with you for a long time. It is just fabulous and snuggly enough to feel squishy and so soft while holding it in your hands. You can stand it on your bed on the pillow side or in the center of pillows and have sweet dreams hugging it in the evening.
Snuggle up with a soft and comfy Free Crochet Horned Owl C2c Square Pattern using it as a pillow cover. Its construction and making blocks are quite understanding and memorizable that will help you to create this project easily. Make a graphic picture of c2c blocks first then start working on its building so you may get perfect results. Crochet it for your love or dear ones as a lovely gift and gain appreciation from them.
This beautiful and cute Free Crochet Night Owl Blanket Pattern will cheer up you when wrapping it around your body along with providing you coziness. Its owl features and background, whole are constructed from hexagonal blocks that seem difficult to make and join but actually not. Cozy and comfy, this crochet blanket will also add colors and lovely hues to your home decor to bring charm and versatility along with an appealing look.
If you are really a fan of crochet animal projects then you will surely love to add this Crochet Owl Hat Pattern to your wardrobe. It is designed for kids that will give them a cute and adorable look but you can customize its size and crochet it for yourself and your dear ones too. Its beak, wide eyes, and lovely ears give it a more and more charming look and make it a more impressive and fascinating hat pattern among all other crochet hats.
What a lovely and fabulous this Free Crochet Owl Be Warm Hat Pattern is with ear flaps and pom-poms. It's cozy enough to keep you toasty warm while heavy snow falling around you as well as it will provide you a really stylish and lovely look. Its fluffy texture and snuggly pom-poms will create a hoot in a big crowd and also will be a fabulous addition to your accessories. You can skip the features of owl to personalize this project and instead of that this exciting hat project can be used plain or in any other animal features.
This Crochet Owl Applique Pattern is a quick and easy pattern for learning basic to advanced stitches. It's designed in a heart pattern that will add valentine's day decorations to your home. Use these cute little hearts to create Halloween or thanksgiving decorations too by using them as coasters, ornaments, appliques, or buntings. You can also add these fabulous cute motifs to your blanket to give it a lovely and pretty appearance.
14th of February is the day of lovers for the whole of the world that demands love and a smile on everyone's face. So, bring a very cute and lovely smile to your dear ones face by gifting them this little Free Crochet Owl Always Love You Valentine Caddy Pattern describing them your love and deep feelings of yours for them. You can also add it to increase valentine's day decorations displaying it onto your mental shelf or on your bed to keep smiling and memorizing your love. This cute little owl amigurumi will be with you as your best friend for a long time as long as you want to keep it with you.
Make your Christmas more fun and joyful with this fluffy and cute Crochet Baby Owl Tree Ornament Pattern. It just a mind-blowing pattern that will create impressive decor and embellishment to your tree. Plus, it is really safe for little babies and kids that will be really attracted to this owl amigurumi pattern. Crochet it in different colors to bring a pop of colors to your Christmas decorations and add personalization to this fabulous pattern.
Here is another cute Free Crochet Milli Owl Pattern that is waiting for you to become a friend of yours. It's fabulous and the construction of it is quite fun and interesting. Its sleepy eyes and cute beak really make it attractive and famous in both kids and adults. Plus, it will be a safe way to let your kids play and snuggle with it as their favorite pet animal amigurumi project. Crochet it for your kids or use it to add an animal theme for your different parties or occasions that will leave an appealing and impressive effect on every one of your guests.
Making everyday accessories in animal patterns create so much fun and cute accessories. Let your crafty skills bring out to make this fabulous Free Crochet Owl Tote Bag Pattern that will add charm and style to your wearables. It's a clever project that can be customized in color combination and size too to make it perfect for every lady of your family or for gifting purposes. It is a slow a great stash-busting project that will make your stash bins empty but produce a really fantastic and functional project for your daily use.
Welcome this cute little guy of nights to your home by making it o your blanket. Follow the instructions of Free Crochet Owl Blanket Graph Pattern and add creativity and style to your home decor at the same time. It is lovely enough to convert into a beautiful handmade gift or customize the size of it to use it as an adorable baby blanket. It's cozy and warm along with a bundle of beauty and functionality to keep you toasty warm during the deadly winter season.
Free Crochet Owl Change Purse Pattern
Free Crochet Owl Ear Flap Child Hat Pattern
Free Crochet Owl Throw Pillow Pattern
Free Crochet Owl Backpack Pattern
Free Crochet Owl Winnie The Pooh Pattern
Free Crochet Owl Be Warm Hat:
Owl Free Crochet Baskets:
Free Crochet Screech Owl Applique:
Fantastic Owl Potholder For Your Kitchen:
Easy Free Crochet Owl:
bunnymummy-jacquie.blogspot.com
Baby Owl Free Pattern:
Owl Amigurumi Mr. Murasaki:
Large Free Crochet Barn Owl Pattern: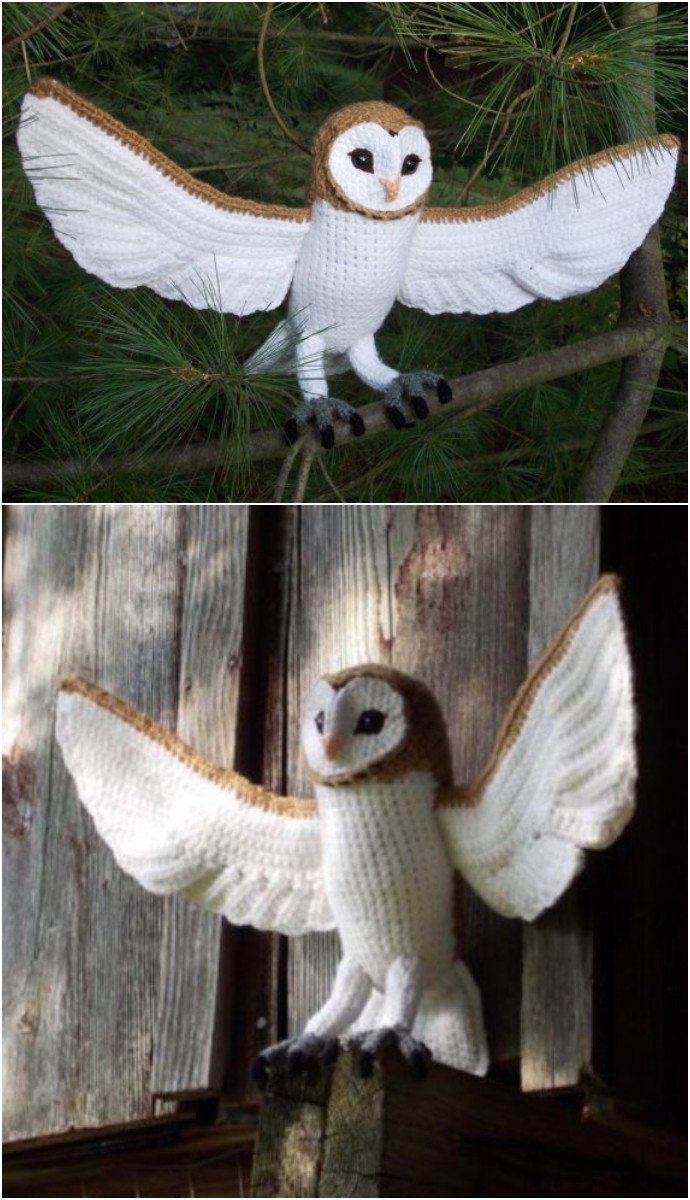 New Pattern Crochet Owl Coasters:
Free Crochet Owl Purse Pattern: