Looking for owl crochet patterns? This is the perfect collection of modern to traditional owls. These crochet owl patterns will be more than just a pretty face on your tree; they can be used as home decor and are wonderful toys for kids. Make these cute crochet owls for holiday decorations, or treat them as toys by filling them with colorful beans or other goodies. These free crochet owl patterns are adorable for an owl lover or anyone to display in their home. Whether an experienced crocheter or a first-time crafter, these patterns are simple enough to design and make in no time!
When buying for a crocheter, it's too easy to go for the more-obvious gifts, like yarn or hooks. This year, though, try putting in a little extra effort with one of these 10 free crochet owl patterns. Their large eyes and cute bodies will remind your loved ones that they're on your mind throughout the holidays, even when you aren't around. The best thing about this list is that there are so many different ideas within it. So the next time anyone in your life mentions an interest in owls, you'll have some great ideas at your fingertips.
Each of these 10 free crochet owl patterns is quick and easy to make, so you can get one of your favorite owls on the build in no time.
Supplies Needed For Crochet Owl Patterns
Hook and Needles:
Size H (5mm) hook (or size needed to obtain gauge)
Yarn:
Any worsted weight yarn that you like. I have used Red Heart Soft Yarn in the past. It is a super soft acrylic yarn that works well for amigurumi projects like this one. You'll need just over 150 pieces of yarn, which you can buy at any craft store or online retailer.
Fiberfill stuffing (optional)
Stitch Marker (optional)
Free Crochet Owl Be Warm Hat:
These Owls Be Warm hat is super cute and very popular on the internet, even if you have never heard of this type of crochet before. The pattern uses a single crochet stitch that is simple enough to make it great for newbies but still fun for experienced crocheters. Keep warm this winter with this cute owl hat! This hat is designed to be worn with a pompom at the top and an owl on top of your head. Easy to make and perfect for any wardrobe, this will be a great addition to your collection.
Owl Free Crochet Baskets:
Free Owl Crochet Basket Pattern: This soft and cozy basket is the perfect gift to keep in your car, purse, or desk. Or use them around the house as fun storage containers! The basket can be made with either worsted weight yarn (shown) or sport weight yarn. These Crochet Baskets are a perfect gift for your little kids who like playing with them. This basket is perfect for storing small things, toys, and more. It's also handmade, so you can feel the love and care that goes into each item.
Free Crochet Screech Owl Applique:
This crochet screech owl applique is a great gift for any owl lover. This charming little Screech Owl is so fun and easy to make! The pattern comes with complete instructions, including tips on increasing and decreasing to make this applique look its best. This owl applique is perfect for handmade gifts, clothing, accessories, and home decor. The crochet screech owl is a great project for beginners looking to take their crochet skills to the next level. It's also an awesome way for experienced crocheters to use their extra yarn scraps.
Fantastic Owl Potholder For Your Kitchen:
This fantastic Owl Potholder is great for use on your stove, kitchen, and in front of the oven to protect your hands while cooking and baking. The potholder is made with high-quality cotton yarn, accented with buttons that create different colors on each side of the owl. It makes a perfect gift for yourself or anyone who loves owls! This Owl potholder is the perfect addition to your kitchen. These little guys work hard because they are not only cute but also functional! They are easy to care for; toss them in the wash when it comes time to clean your dishes.
Easy Free Crochet Owl:
Here's a free crochet owl pattern that's perfect for beginners. It's an easy and quick pattern, which makes it a great pattern to use up scraps. Make one in just a couple of hours. Just don't forget to give your crochet owl a sweet name! This little owl is the perfect project for beginners looking to expand their crocheting skills. The pattern is simple yet charming, and it's a great way to use up yarn scraps. This quick and easy crochet project would make a great gift. These are the perfect little companions for your kid's bedrooms...each one comes with a pocket for their treasures. You could also use them as colorful keychains or decorate them to match any decor!
bunnymummy-jacquie.blogspot.com
Baby Owl Free Pattern:
This Crochet Baby Owl Free Pattern is the cutest thing ever! It makes an adorable crochet baby shower gift and can be used as a decoration or photoshoot prop. This free pattern for a baby owl hat is fun to crochet and makes a great gift for any special little one in your life. It is a perfect baby shower gift for any little girl and is super easy to make. It's an adorable addition to your child's nursery or bedroom that doubles as a soft, cuddly stuffed animal. This tutorial will show you how to crochet up this lovable little owl using simple stitches and techniques. Easily customize this pattern in any color scheme by choosing different combinations of yarns!
Owl Amigurumi Mr. Murasaki:
He's a lovable little guy with a typical owl personality and attitude. He loves the night and even has a bit of a hoot when he sees someone who hasn't seen him before. This is the first crochet amigurumi pattern in the store. It's a little vanilla but a needed staple in any crocheter's arsenal of skills. It leverages many of the same techniques useful in other patterns, so it can help refresh your memory and teach you some new techniques. A good project to tackle to improve your crocheting skills or as a learning tool for beginning crocheters!
Large Free Crochet Barn Owl Pattern: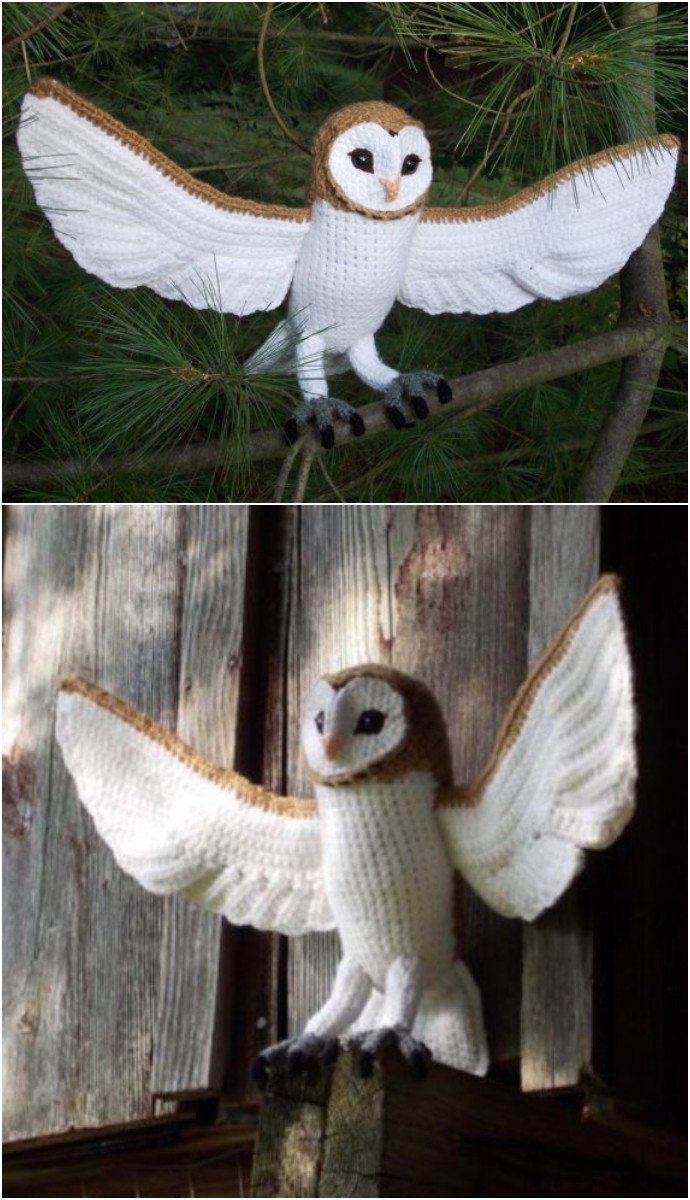 This exquisite large barn owl crochet pattern is an easy sewing project that results in a beautiful and colorful embellishment perfect for several crafts. This beautiful owl is crocheted in a two-layered fabric, with the outside being made of soft acrylic yarn and the inside being regular worsted weight yarn. The pattern shows you step-by-step how to make this adorable owl, along with photos of each step. Make it in any color that matches your room decor, and watch him sit on your shelf until you are ready to display him outdoors.
New Pattern Crochet Owl Coasters:
You can make these gorgeous coasters in any color to go with any decor. They make wonderful gifts for friends and family. The owl face can be on either side; you can make a heart pattern on the other! These owls are made with fun fur and are so adorable. These super cute owls make great decorations and are perfect for your kitchen. This great project works quickly, making it perfect for gift giving or making multiples for yourself!
Free Crochet Owl Purse Pattern:
This beautiful and unique crochet owl purse pattern is the perfect accessory for your next project. Make it as part of a set, or give it as a gift! This crochet owl purse pattern has two adorable owls and some simple bag-making techniques you can use to make your own version. The pattern includes details on how to make both owls, including their body shapes, wings, and hats. This fun owl purse will surely be a hit with all your friends. Featuring the classic owl shape, this crocheted purse can be made in just a few hours, with minimal sewing skills required. Crochet one or make multiple to give as gifts!