Crochet granny square blankets are easy to make, cozy, and display the same classic charm of these little motifs. Here are some crochet granny square blanket patterns to help you make one(or many!) in many textures and color-changing techniques on the granny square motifs.
Easy Crochet Granny Square Blanket Patterns

All these granny square blankets need the same basic stitches, whether to make, assemble, or create beautiful textures. All these granny square blankets divide this large project into smaller pieces, making it less mind-ruining. So, keep reading this list to learn how to crochet a granny square blanket!
Crochet A Farmhouse Granny Pattern
Though with a slightly different and intricate texture (cute crossed shell!) than traditional granny, this granny square is easy to crochet using the basic crochet stitches once you learn how to use these stitches to make a granny. You can make many appealing items despite the blanket with a little airy design. If you are comfortable changing colors, you can make them extra attractive. You will use acrylic yarn in this (good for blankets!), but if you want a coaster or dishcloth, you can replace it with cotton, which is absorbent and heat-resistant.
Material Recommendations:
Worsted Weight Red Heart Super Saver/ 4ply
J-10 or 6mm Hook
Main Steps Involved In Making:
To crochet this crossed shell granny square, you'll make a few chain stitches, then join them (using slip stitch!) to create the first round. After that, make additional chain stitches and use multiple double crochets to make clusters (this makes a shell) while skipping a few chain stitches to create spaces.
You will again work with a single crochet until it reaches the side to make a cross-side with alternating shells.  Following this, you'll continue to grow the square outward, ending with a crossed pattern. Finally, weave in the ends to finish your granny square.
Crochet Farmhouse Granny Square Pattern
Here is another pattern for a farmhouse granny square with a slightly more puffy crossed design, combining single crohet and double and using bulky yarn. Arranging such granny squares in a tilted form on the blanket will give a beautiful diamond pattern. This granny square using artificial fiber would be perfect for making warm items and may also make bags!
Material Recommendations:
Bulky weight Paintbox's Simply Chunky yarn.
6mm crochet hook
Main Steps Involved In Making:
To make puff stitch granny squares, you'll create the first round similar to the previous square. Then, form double crochet clusters by gathering many loops on the hook and joining them by pulling through all the loops to make a puff stitch. Remember to skip stitches by making a large chain, bending, skipping some stitches, and then inserting the hook. Repeating this process will end up with a cute puff stitch granny square! Then, You can join the squares (when enough!) to make a cute textured blanket.
Crochet Granny Stripes Squares Blanket Pattern
Resulting in a colorful decor blanket, vibrant granny squares, and other features that will help you to practice basic crochet stitches and neat color-changing techniques, whether in the round or to make stripes and borders. Though takes some more time, this crochet blanket would be the nicest addition to any spot, especially during spring, to cozy up evenings.
Material Recommendations:
Caron Simply Soft In Many Colors
H/8 (5 mm) crochet hook
Main Steps Involved In Making:
You should be familiar with changing colors in each round when making a colorful granny square. Begin with a magic ring and create double crochet clusters (about 3) within the same space. By making additional chains, you can create gaps between each cluster. Keep working in the round, changing your color after completing a full round to add rich hues to your granny square. Then, combine it with a rectangle at the center, grow out with four single crochet stripes, and add some more granny squares around and complete with adding a border. You will need 32 squares.
Granny Square Crochet Blanket Small Pattern
This chunky crochet blanket with Granny squares displaying a touch of light and darker velvety colors transition in rounds will be the most satisfactory winter gift for newborns as it balances warmth and comfort and looks super adorable. You can use any color combination, although everybody will love that (light teal, pink and vintage white!) more!
Material Recommendations:
Bernat Blanket Super Bulky Yarn
M/13 (9 mm) Hook Size
Main Steps Involved In Making:
For this large granny square, using bulky yarn will make it bigger. You will follow the same magic circle, slip stitches, double crochet clusters, and chain spaces, working from the center outwards with the same sequence. Working with bulky yarn might seem slightly different initially, but it's a fun and fast way to create a sizeable granny square. Then, combine them (using a flat slip stitch!) to make a cute blanket that doubles as decor.
Granny Rectangle Crochet Baby Blanket Pattern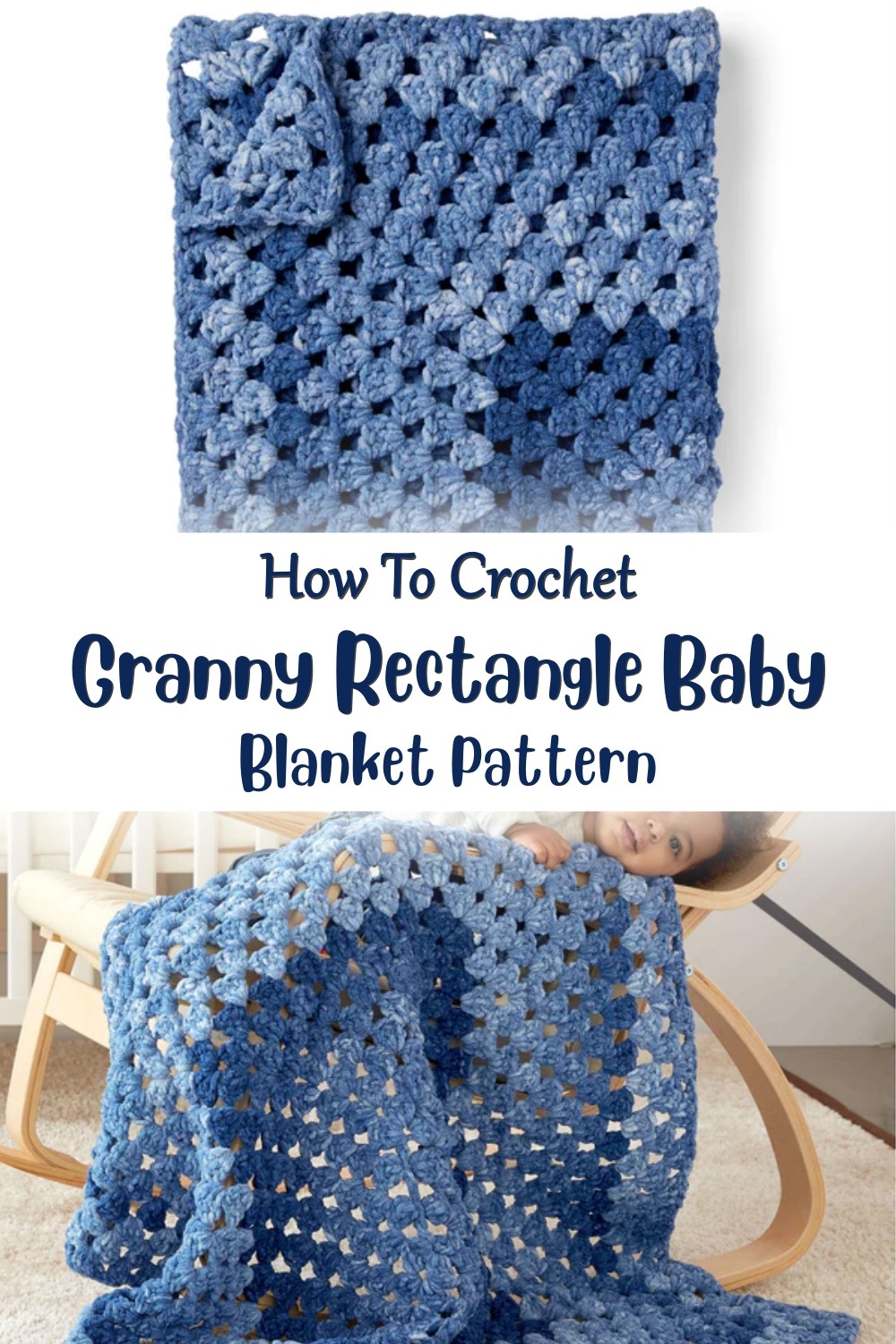 If you are bored of making the granny squares individually, this one will help. Now, you will work with granny stitch throughout to make a large motif that will double as an airy blanket for the little one. When you use the ombre, you will end up with an appealing transition effect to impress everybody!
Material Recommendations:
Super Bulky/ Bernat Baby Blanket Dappled
K/10.5 (6.5 mm) crochet hook
Main Steps Involved In Making:
Making a granny stitch blanket is simpler than it sounds. Start small and gradually work your way outwards, expanding the size of your square. The secret is increasing the double crochet clusters and the stitches you skip. This way, you end up with a large granny square instead of a smaller one, which becomes your blanket. Using bulky weight yarn can help you speed up and quickly create a warm, cozy blanket.
Crochet Granny Square Blanket Pattern
This airy crochet blanket will use the traditional and most basic granny square but with a twist of using multiple colors. This crochet blanket will be a good wrapping option for middle weather. You can make it any size by increasing or decreasing the number of granny squares!
Material Recommendations:
Worsted Weight / Lion Brand Heartland yarn
J-10 (6.0 mm) Hook
Main Steps Involved In Making:
You'll first make individual granny squares. Each will comprise five rounds, each featuring a different color, three chain spaces, and three double crochet clusters. You will join them once you've made enough squares for your blanket size. To do this, you'll use a technique called the flat slip stitch, which is detailed in the pattern instructions. With this method, your squares will fit perfectly together, resulting in a smooth and seamless blanket.
Crochet Bright Granny Throw Pattern
To color up the bore winter sittings, you can crochet this blanket very similar to the previous one but will use many colors to make every granny square different in combination and end up with a cute wavy border detail. This blanket will be an irresistible gift for yourself or someone special.
Material Recommendations:
Worsted / Red Heart Super Saver
I/9 (5.5 mm) Hook
Main Steps Involved In Making:
This granny square blanket involves crocheting 37 individual granny squares in different combinations of 11 colors using the same techniques and a back loop double crochet. However, it depends upon you! Out of these 37 squares, 4 will be the largest, and the rest will be smaller. Once you have your squares, arrange the smaller ones to resemble an outlined square with a plus symbol in the middle. The remaining spaces on the sides will be for the larger granny squares.
Sew all squares together, and then use the granny stitch to add stripes around this arrangement. Finally, add a border, and the handmade granny square blanket is ready!
Crochet Sunflower Granny Square Blanket Pattern
Here is a charming crochet blanket adorned with adorable sunflower motifs for brightening your home during cold winter when flowers are scarce. This beautiful banket will allow you to enjoy blossoming flowers indoors, all while staying warm and cozy. Adding two borders gives the blanket an extra touch of awesomeness, making it an appealing decoration for your living space.
Material Recommendations:
"I Love This Yarn In Yellow", White, Brown, And Black
J / 6.00 mm Crochet Hook
 Tapestry Needle (Necessary)
Main Steps Involved In Making:
Each square will be made in rounds with black, brown, and yellow yarn, starting with a magic circle and using puff and cluster stitch techniques for texture and sunflower shape. After making the individual squares, lay them out in a grid (almost 7 squares wide and 9 squares long) and link them using the slip-stitch technique. Then, to finish it off, add a brown border around your assembled squares and a yellow shell stitch for the final border.
More Crochet Collections