Crochet scarf patterns are so cute and incredible to crochet. They not only give you warmth and coziness but also make your personality gorgeous and amazing. Here we have brought some amazing and lovely free crochet scarf patterns for your inspiration that will make you crazy. Especially if you can find a fairly easy pattern then it becomes so fun and fast. Especially when the temperature getting colder then you have to layer up many accessories to keep yourself warm and cozy. And wearing a crochet scarf is the best way to protect yourself from cold and chillness. Crochet scarf patterns are easy to crochet and easy to come by.
There are thousands of designs and patterns that you can make with your own hands and crochet hooks. You can see them in cowl shapes, in oversized chunky patterns, infinity design, and skinny crochet patterns and in many more fun patterns and ideas. It all depends on your own choice and taste that whatever you are looking for. Whether you want to crochet a super simple scarf or a gorgeous that gives you a cozy as well as a stylish look. Crochet scarf patterns are not specific only for winters but also you can wear them in spring and summer cold nights and days with airy and lacy patterns.
You Can Also See:
You can find here all crochet scarf patterns from beginners-friendly to experts, there is something for all. You will also find here scarf patterns in various styles, designs, and colors. You just have to learn about the basic stitches and patterns that can help you to take the first step to crochet scarf patterns. Links are also shown here with each pattern that will provide you complete guidance and instructions. So, it will be really helpful for beginners and newbies. So, please scroll down to check out this stunning list and draw some inspirations.
Free Easy Crochet Scarf:
Chunky Tassel Crochet Scarf Pattern:
Homespun Crochet Infinity Scarf Pattern:
Snowberries A Luxurious Winter Scarf Crochet Pattern:
Crochet Buffalo Plaid Scarf Free Pattern:
Snow Country Super Scarf Free Unisex Crochet Pattern: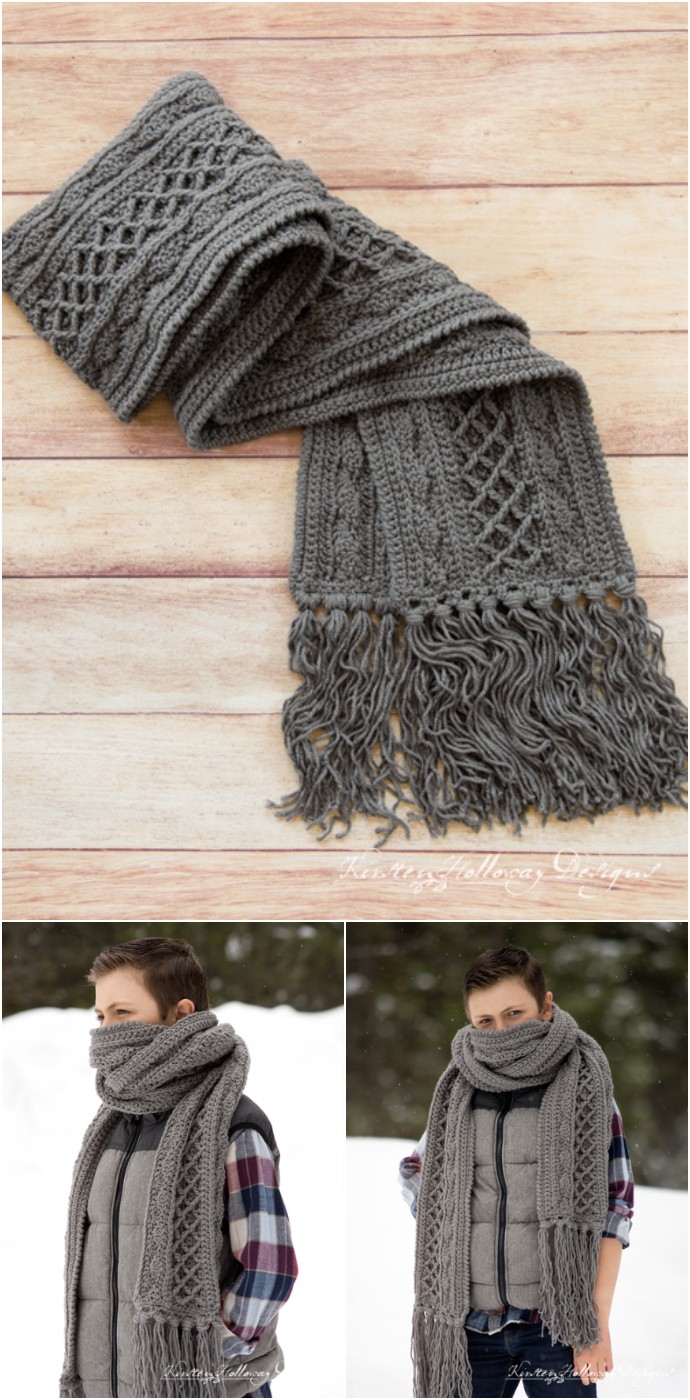 Not Just For Granny Rectangle Crochet Scarf Pattern:
Free Crochet Scarf Pattern Rose Petals Scarf:
Awesome Andrea Scarf:
Striped Ribbed Fringe Scarf Free Crochet Pattern: